Customer Reviews
Finally No Orange
This was my first time using this tanning product and I absolutely love it! I love that its a foam and is easy to apply. I put on two coats and left it overnight. When I washed it off in the morning my tan looked very natural and there was no orange! Will definitely use again in the future.
I love this tanning foam!
This was so easy to apply, went on evenly, and gave me a healthy, natural glow!! Definitely a staple for the summer!
10/10 recommend!!
I have loved this self tanner! It goes on smooth and doesn't leave me looking an unnatural kind of dark. I honestly expected it to all wash off when I showered and it didn't! Blue Saint is the best!
The best of the best!
I really love blue saint. I decided to try it out because I appreciate plant based products. It really is steak free and I had no problems whatsoever with application. It gives such a natural glow! I will definitely repurchase this again and again! My husband even used it for a vacation we went on and even he loved it! The only reason I'm not giving it 5 stars is because the face oil that I purchased with it caused me to break out terribly and I felt slight burning. I have more sensitive skin though, and if you don't struggle with skin sensitivity it probably won't be a problem for you. But overal I LOOOOVE!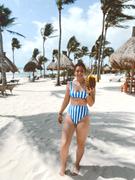 Absolutely Amazing Tanner!!
I have always been timid of self tanners because of the orange marks I have seen on my friends. But when I first put on Blue Saint body and face tanner I fell in love. It applies so smoothly and evenly, and doesn't have any orange in it at all! 12/10 would recommend for a natural looking tan!